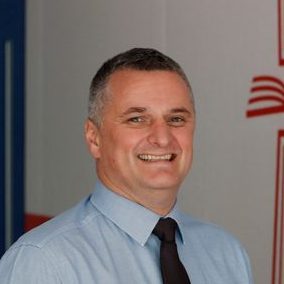 Jon Keelty is the Principal of Island Christian Academy, a collaboration between the Chinese YMCA of Hong Kong and Generations Christian Education. He has been involved in education for over 25 years and is passionate about innovation and facing the challenges of 21st-century education. He has taught in Primary and Secondary schools both in his home country of New Zealand and in Hong Kong. He has a diverse background in teaching and learning areas, from specialist music and computer science to primary homeroom teaching and senior leadership roles in a range of contexts. Jon and his wife, Sue, have lived in Hong Kong for fifteen years and their three sons are all studying in New Zealand.
Prior to taking up the leadership role at Island Christian Academy, Jon served as Head of Primary for German Swiss International School in their international stream. He is an experienced leader who has helped develop and implement innovative, collaborative learning programmes in the schools he has worked in. He was drawn to the unique culture of IslandCA and the growing reputation it has in Hong Kong as a school that truly cares for the whole child in all domains of academic, physical, social, emotional and spiritual development. He is also excited at the opportunity to develop the school's vision for Service Learning and the desire to impact in the local community.
Jon and his wife are committed Christians and are part of the family at The Vine Church, where Jon serves on the Worship and production teams. In their spare time, they can frequently be found exploring the nooks and crannies of both the vibrant, urban cityscapes and the country parks in Hong Kong.